Luxury Train Tours In India
Indian Railways has implemented a number of train tours for the benefit of the common people. As a result of this, there are plenty of India train tours spanning throughout the length and the breadth of the country. These include luxury train tours as well as many other popular train tours in India. These train tours give you a detailed overview of the history and heritage of the places visited. You can choose any of the following rail packages. It will certainly remain as your cherished memory for many more years to come in the future. Given below are some of the well known train tours in India.
The Palace on Wheels is a royal luxury train of India. A collection of the royal coaches of the Maharajas of India, this majestic train offers you a heritage ride back to a royal time. Travel to exotic places in Rajasthan, and see the Taj Mahal in Agra, on the Palace on Wheels with Luxury Trains of India.
The Deccan Odyssey is a royal journey across the center of India. See majestic forts and palaces, beautiful temples and beaches, and the culture and landscape of the Deccan, as this royal luxury train takes you on an unforgettable Deccan Odyssey with Luxury Trains of India
A lot has been expected of the Royal Rajasthan on Wheels even before it has started running. A lot of this hype surrounded the facilities that it was supposed to offer – never before had such good and varied benefits been available in the history of Indian luxury trains.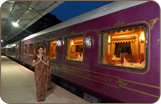 One of the top luxury trains in the world , The Golden Chariot takes the tourist for memorable journey of exotic locations of both Karnataka and Goa . In the seven night , eight day splendid tour, the traveler apart from tanning in the Calangute beach of Goa.
India - one word that conjures a million images. Tigers, snake charmers, colours, mysticism, royalty, Rolls Royces, cuisines, arts, dances, plays, music, forts, palaces, temples, monuments, people, mountains, beaches, jungles, deserts, romance, dreams... the list is truly endless.
The oldest working steam locomotives in the world, the Fairy Queen made its maiden journey in the year 1855 for the erstwhile East Indian Railway. And rightly so, the Fairy Queen today holds the Guinness World Record for being the oldest locomotive in regular operation.
Welcome to the rare delight, a special experience. Rare because in our fast - paced lives, it is not often that we can take time off to unwind and taste the pleasure of Raaj culture. Special, because your journey will take you and your family back in time : to the age of Maharajas. To carry you there is the world's most exotic trains.
In the Mahaparinirvana sutra, the Buddha tells his followers that they can attain merit and a noble rebirth by going on pilgrimage to the places where he was born (Lumbini), gained enlightenment (Bodhgaya), first taught (Sarnath), and attained Nirvana (Kushinagar).